7 Best Apple Watch Sleep Trackers to Track your ZZZs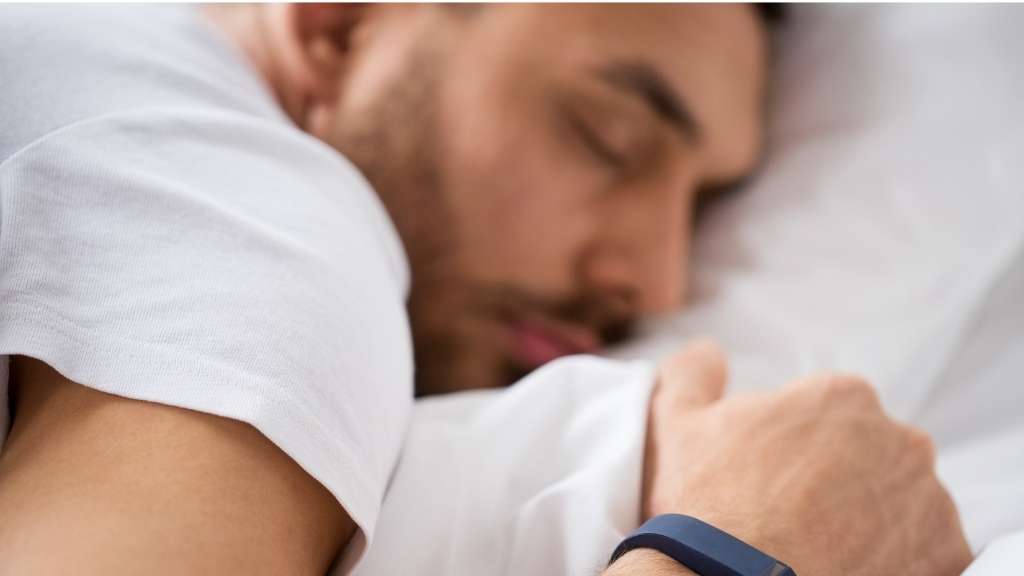 Has this ever happened to you that you have one sleep-deprived night and end up being extremely grumpy the next morning? And, over time, not getting enough sleep might affect far more than your mood for the entire day.
Studies demonstrate that getting enough sleep on a daily basis might assist with anything from blood sugar to exercise. But how will you track your sleep?
Enter sleep tracking apps.
Here's a list of the 7 best Apple Watch sleep trackers to help you with a sharper brain, and boost your mood, healthy heart, and activity milestones.
Sleep Tracker for Apple Watch
Apple Watch now fully enables sleep monitoring without the use of third-party software — thanks to the introduction of watchOS 7 in 2020!
Apple has integrated Apple Watch sleep-tracking features like Wake Up and Wind Down to provide a smooth inter-device experience.
On the Apple Watch, there's a redesigned Sleep app, as well as a Sleep Mode. This sleep mode covers your standard watch face and instead displays the time and the alarm time. It also disables functions like raise-to-wake, ensuring that your display doesn't light up at 3 in the morning.
But if you don't want to use the in-built Sleep Tracker, you have a LOT of options out there.
7 Best Sleep Tracker for Apple Watch
Some of the best Apple Watch sleep trackers are listed below:
AutoSleep

HeartWatch

NapBot

Pillow

Sleep++

Sleep Tracker

SleepWatch
Let us read about the best features of each of these sleep tracking apps.
1. AutoSleep
Depending on how much you prefer to sleep, there are two settings on the app. You don't have to do anything to track if you sleep with your watch on. However, if you don't wear your Watch to bed, be sure to charge it before going to bed and putting it back on your wrist when you wake up.
AutoSleep has Sleep Rings, like Activity Rings on your Apple Watch, which graphically track your sleeping targets. Some of these rings like the quality of your sleep, pulse rate, and duration are displayed on the primary screen.
Once you've delved into all of the accessible data, AutoSleep's UI might feel a little overwhelming. To address this issue, the app also has a fantastic Apple Watch app. This app allows you to quickly see your sleep statistics for the day. 
It also displays a Readiness score that estimates how prepared you are for the next day depending on the previous night's sleep.
Top Features
Sleep Rings

In-depth analysis of sleep

Statistics on the Apple Watch app
Best Known For
One of the most easily navigable sleep tracking apps; most precise information, including a thorough analysis of your quality and duration of sleep, monitoring heart rate, and so much more.
2. HeartWatch
HeartWatch is first and foremost a tracking app for your pulse rate data, notifying you of any unusual activities. However, it also monitors your sleep and correlates your heart rate monitor with your sleeping patterns. This allows you to compare your heart rates when sleeping and awake.
Top Features
Correlating heart rate with sleep pattern

Comparing heart rates
Best Known For
More than just a sleep tracking app!
3. NapBot
NapBot is a newbie to the sleep monitoring game, but it's fast establishing itself as one of the best Apple Watch sleep trackers. NapBot performs automatic sleep analysis using Machine Learning, enabling you to get data on stages, patterns, and more.
NapBot provides a substantial quantity of information in a user-friendly interface. The Calendar option of the NapBot gives you a daily breakdown of your sleep. Here, you can also select a single day to view more extensive statistics on heart rate and phases.
Top Features
Accurate data analysis using Machine Learning

Monthly breakdown of sleep and heart statistics
Best Known For
User-friendly interface and extensive statistical analysis of your sleep
4. Pillow
Pillow is a sleep tracking software from NeyBox Digital Ltd. The tracker has a 4.3-star rating on the App Store, making it among the best Apple Watch sleep trackers.
Pillow can be used to monitor sleep automatically and is Apple Watch compatible. However, it may also be used manually. 
One of the best features of this sleep tracker for the Apple Watch is that it allows you to record audio as you sleep. This feature is especially useful for individuals who think snoring or sleep talking is interfering with their sleep cycle. 
The sleep study shows patterns over time and includes a sleeping pattern diagram and pulse rate analytics. Pillow provides sleep suggestions on a frequent basis to help you relax and remain asleep, and it personalizes your observations over time.
Top Features
Audio recording feature

Insights for better sleep

Color-coded sleep graph for REM, light, or deep
Best Known For
One of the best Apple Watch sleep tracker apps for extra features because it includes voice recordings, individualized analytics, sleep patterns, and sleep suggestions.
5. Sleep++
Cross Forward Consulting's Sleep ++ is one of the best sleep trackers for Apple watch.
The app is minimal in its interface with only a start and stop button, and a tiny blue graph displaying your sleep patterns. It, like AutoSleep, can connect your data to Apple Health and, when engaged on the iPhone app, will automatically track sleep.
Top Features
Simple interface

Free to use

Auto-tracking with Apple Watch
Best Known For
Free program that uses a minimalistic and straightforward interface to track fundamental sleep patterns.
6. Sleep Tracker
Have you used a FitBit? If yes, then you might find the Sleep Tracker interface to be very similar.
Sleep Tracker closely resembles FitBit's sleep monitoring feature. This software tracks your sleep automatically for both nighttime and daytime naps! The summary report will show you how your sleeping habits are progressing.
Top Features
Sensitive yet adjustable movement detection

Trend graphs

Sleep pattern summaries
Best Known For
Sensitive yet adjustable tracking and colorful reports
7. SleepWatch
SleepWatch, one of the best Apple Watch sleep trackers was launched by BodyMatter and uses inputs from your Apple Watch to automatically track your sleep. This is the easiest application to use with this device since it collects all of the data you require without having you provide any information. 
SleepWatch is one of the best Apple Watch sleep trackers as it offers you a sleep score and a comprehensive analysis based on the length of your sleep, type of sleep (light, deep, or interrupted sleep), and changes in heart rate during the night. Simply wear your Apple Watch to bed, and the app will take care of the rest. 
Bonus feature: There's also the choice of tracking activities like late-night snacking or alcohol intake to see whether they have an influence on your quality of life.
Top Features
Simple interface and graphical reports

Defined metrics in reports

Personalized insights on lifestyle

Auto-sync to Apple Health
Best Known For
Captures data from your watch automatically and analyses many parameters to give you a complete picture of how well (or not well) you slept.
Final Verdict: Choosing the Best Sleep Tracker for Apple Watch
This list of the best sleep trackers, both basic and sophisticated,  are available for Apple Watch, so you can ensure you're getting the best sleep possible. Features like audio, pulse rate, bedtime, and waking time are all used by the top sleep tracker apps to offer you a comprehensive depiction of your night. 
Many applications sync with data from wearable devices like the Apple Watch to give you a sleep score and produce graphs that demonstrate how your sleep has changed over time. Some applications allow you to download your data so that you may share it with your healthcare provider for help.
All in all, you can use any of these apps by understanding why you want to track your sleep and what goals you want to fulfill, and the type of interface you want on the app.
Best Sleep Tracker for Apple Watch FAQs
1. What is a sleep tracking app?
Sleep applications track your sleep and give you an easy-to-understand report on how well you slept. They're important for those who wish to figure out how often they get up at the night and also why, as well as develop sleep objectives.
2. How much does a sleep app cost?
There are a number of free or low-cost sleep tracking applications available. Some of them even provide a one-week free trial before you buy the paid or premium versions of the sleep tracking apps. Some of the best Apple Watch sleep trackers range from $3.99 to $9.99 per month.
3. Which is the best sleep tracker for Apple Watch?
Features like audio, pulse rate, bedtime, and waking time are all used by the top sleep tracker apps to offer you a comprehensive depiction of your night. Some of the best Apple Watch sleep trackers are listed below:
AutoSleep
HeartWatch
NapBot
Pillow
Sleep++
Sleep Tracker
SleepWatch